7 Tips for Staying healthy during the changing weather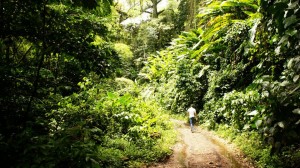 We've said goodbye to the summer and are now well into the red leaves and crisp air of autumn. This change of weather means one thing to a lot of us: cold and flu season!! This year I'm trying prevention before cure. Here are some preventive measures we can take to try and scare away these nasty viruses. The best part is that they are all natural methods and not pharmaceuticals that sometimes in the long run end up weakening our immune systems. So, here are my 7 tips for staying healthy during the changing weather.
1. Stay hydrated
Carry a bottle of water with you wherever you go.  Your bodies efficiency levels do depend on your water intake. The more hydrated it is the more strength it has to keep infections at bay. Coconut water is especially good for building immunity and for speedy hydration.
2. Wash your hands
Speaking of water remember to wash your hands whenever possible. Now, this may seem as an obvious thing to do, but nonetheless, it is important that the germs that settle on your hands should be wiped or washed away before they end up on your mouth or nose. This will lead to a cold, especially during the changing weather and if you are out and about and can't wash your hands keep a bottle of hand sanitizer with you.  I would recommend making your own natural one at home.
Homemade Hand Sanitiser Recipe:
100ml Water
5 ml – White vinegar
1tsp – Aloe Vera Gel
2 drops each of cinnamon, clove, rosemary and eucalyptus essential oils
Mix everything together and put it into a squeezy or spray bottle that'll fit into your bag!
3. Diet
Try and increase your vitamin intake through your food. Adding extra fruit, vegetables, nuts and seeds will help you get that extra hit of Vitamin C during the changing weather. Foods high in vitamin C include oranges, papayas, lemons, pineapples and broccoli. Leafy greens like kale and spinach are also health boosters whilst ginger and garlic are all time favourites.  One way I to get a solid hit of goodness is a smoothie.  These are a morning staple at our house, with so many ingredients to choose from, smoothies never get boring. I generally use almond milk as a base but you can use any kind of nut or grain milk like hazelnut, soy, rice milk.  SEE RECIPE.
Add probiotics to your diet. For example kombucha, sauerkraut, kimchi, miso and ginseng are great for immunity and your digestion.
If this is all sounding too much,  most of these ingredients are available in supplement form as well!
4. Exercise
Nothing keeps you healthy and strong like exercise. Any exercise is good, be it be going to the gym, yoga, pilates, swimming, cycling  or a brisk walk in your neighbourhood. It will get rid of toxins, improve circulation, release endorphins, reduce stress, making you feel and look really good! However, as the weather is changing and becoming colder, make sure you wrap up warm after each session!
5. Sleep
A very underrated one,  considering the fast pace of life today.  We often don't make getting a good night's rest a priority.  Allowing your body to rest and recuperate from the day's activities both mental and physical is vital. Without sleep our bodies cannot maintain a balance and be healthy in mind, body and spirit.  Plus dreaming can be such fun! If you're having trouble sleeping, having a cup of hot milk or a banana really helps you relax owing to the high levels of potassium.
Personal tip: try to sleep with your cell phone nowhere near your bed,  definitely not on your bedside table. I always keep mine on the floor to avoid any residual radiation.
6. Be Happy
A positive attitude will take you  along way. Laughter definitely helps keeps mental fatigue away, try to laugh at the small stuff (and sometimes the big things!) instead of stressing out. Massages are a great way to de-stress and I've just found a home-visit massage service that is absolutely brilliant! No need to get dressed and head out into the cold windy evening or afternoon afterwards! A massage increases the body's circulation prompting better blood flow and a general sense of well being. Try meditating, putting on some music and dancing around in your living room, catch a sunset and importantly, try for moments of stillness and simple pleasures.
7. Connect with nature
What I mean by this is go outside there is nothing like fresh air and natural beauty to make us feel invigorated. Most of us live in the  city, but we can still connect with nature, even if it's on your lunch break. Sit in the sun for some vitamin D or have a  walk in the park. Let the earth ground and heal you and you'll find yourself sniffle free during the changing weather.
So there you have it – 7 tips I believe will help you keep away from colds and flus during the shift from autumn to winter and without the aid of pills. If you have tips of your own, do let me know!
***
Nikhat Chahal
AKA: Mrs. Hungry Chef