The Savior of Souls: Chicken Broth
If there's one thing that hasn't changed since the first time someone thought of eating a chicken, it's the belief that a good chicken broth is good for your soul especially when there's a nasty cold getting you down. Isn't it (unless you're vegetarian or vegan, in which case there's something else)? But what is it about chicken broth that clears you up, has you feeling warm, cosy and on the mend?
For my chicken broth, I pack in as much flavour from herbs, spices, vegetables and of course, chicken, to get every last drop of goodness from each ingredient. It's not a small list, mind you, but it's worth gathering as many as you can. If you don't eat chicken, just make the broth with everything else and you'll still be a winner!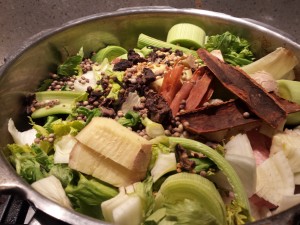 Chicken: amino acids that help reduce phlegm and mucus
Onion: contain quercetin, a natural anti-histamine and anti-inflammatory
Celery: Vitamin C, B2 and potassium
Leek: Contain Allicin – a natural anti-bacterial, anti-viral, anti-fungal
Garlic: Same as above
Ginger: Contains 12 different anti-viral nutrients, reduces fever and aids sleep
Carrot: Full of beta-carotene's that helps resist infection
Thyme: Contains thymol – an anti-microbial
Rosemary: Full of anti-oxidants and is also relaxing
Coriander seed: when combined with ginger, provides a soothing heat to soothe a congested chest
Clove: Anti-inflammatory
Cinnamon: Anti-fungal, anti-inflammatory, anti-oxidant
Pepper: Contains natural expectorants that help ease congestion
Mace: Packed with vitamins
Fenugreek seeds: Contain musilage that helps soothe a sore throat
Chilli: Boosts the body's immune system, warms you up and capsaicin helps you get rid of mucus
Dried amla (Indian gooseberry): Extremely high concentration of vitamin C
Miso paste: Contains all essential amino acids, making it a complete protein and boosts immunity
Lemon: Vitamin C

Phew…cook that in a kitchen sink and you'll never fall ill again! I've tried and look for a vegetarian alternative to chicken but it seems that the best thing is chicken because of their unique amino acids that reduce mucus production, but you can still make good use of everything else in there!
So, what' the best way of making this magic potion, I hear you ask? Well, I prefer to use a pressure cooker for a lot of my cooking – not only do they keep the maximum amount of nutrition in your food, they also get the job done in a fraction of the time. I simply throw everything in there, top it up with water and pressure it for 3-4 whistles (or 40 minutes)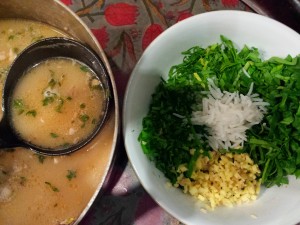 Once the broth is done, chop up the chicken into small pieces and add it to the strained broth along with some parsley, coriander, rice and spinach. I like throwing some chopped fresh ginger as well. Keep in mind, this broth may be a bit intense if you don't have a cold – it's meant for when your taste buds give up on you!