A Maharajah Christmas 2016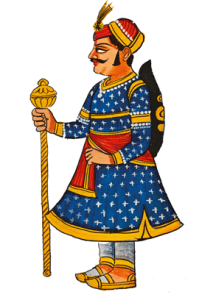 It's the same story every Christmas – the same overcooked turkey, the same roast potatoes, the same brussel sprouts, the Christmas pudding and mince pies you've already eaten too much of in December, the same boiled vegetables and the list goes on. Whilst there are the more adventurous ones amongst us that will eschew traditional Christmas for something a bit more flavoursome like goose or rib of beef, eating out in restaurants during December will always throw up the usual suspects.
Don't get me wrong – I love mince pies and Christmas pudding, but I've usually had enough of those by the 2nd of December. Three years ago we thought we'd do something different, something really special. I've always been a fan of the cuisines of the royal palaces in India both growing up and professionally. The recipes from these palaces have always been closely guarded secrets and a matter of great pride to the ruling family, so it's no wonder that such recipes never see the light of day unless you have secret sources. My recipes have come through the personal collection of 2 royal families – House of Holkar (Maheshwar, Central India – given to me as a wedding present by Lady Holkar herself) and Sailana Palace (Rajasthan, acquired by my mum through her acquaintances in the royal family of House Sailana). Together, these recipes are a fascinating insight into the culinary lives of royalty and the numerous folktales, cultural and historical references the cooks would draw inspiration from to create such masterful dishes.
Our Christmas dinners have now become a yearly feature in our repertoire with a different menu each season with new stories to narrate. This year's dinner see us serving up the following menu:
A MAHARAJAH CHRISTMAS 2016: A ROYAL AFFAIR
Welcome drink
Crackers & stories
To begin
Full moon kababs, 3rd hand bread, garlic chutney (Sailana Palace, Rajasthan)
Thali
Pomegranate lamb (Dogra Palace, Kashmir)
White lentils (Sailana Palace, Rajasthan)
Corn & Walnuts (Dogra Palace, Kashmir)
Chickpea pullao (Red Fort, Delhi)
Cobra Cooler (Indore Palace, Madhya Pradesh)
Dessert
7 Dynasty dessert with pistachio-saffron kulfi & tandoori pineapple (Nizam of Hyderabad, Telangana)
Crackers & Paan

We're happy to come to your home and cook this menu for you and your guests. Just get in touch with all the details. We can also cater for your office Christmas party with this menu. Just write to us with all the details and we'll sort everything out!