Catering, private dining and supperclubs
Private Dining & Catering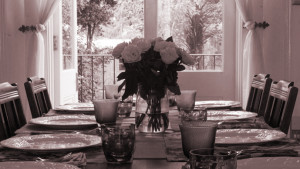 Here at That Hungry Chef we're all about making events personal no matter what your budget is. We can cater for private events such as birthdays, weddings, anniversaries, office functions, celebrations or just a good old fashioned gathering of friends. We can either host your event at our home and garden in Islington or come to your home or a venue of your choice with our renowned and unique style of cooking and hospitality. How about impressing your guests by creating an Alice in Wonderland dining room or perhaps a hunting lodge or even a deserted island paradise with food to match? We can help bring your wildest imaginations to life through our exclusive network of mixologists, sommeliers, florists, musicians, venues and creatives.
We pride ourselves on creating events that are flawlessly executed and to the demanding standards of our clients, not to mention, Pratap's experience of working in Michelin restaurants such as Gordon Ramsay, Chez Bruce, Le Manoir, The Orrery and Galvin, along with time at The Cinnamon Club. All our events are created bespoke to suit our clients' individual requirements and style whether it's an intimate tasting menu for 10 or a wedding for 100 and will look after everything, from waiting and bar staff, to DJ, security and entertainment.
Events we can do range from Breakfasts, brunches, lunches and dinners to canape & cocktail receptions, corporate entertaining, buffets and picnics
Click here to view sample menus
Click here to view our photo gallery
Supper Clubs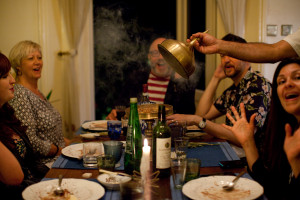 Also known as Closed Door Restaurants, Supper Clubs are the next best thing to a restaurant experience. Here at That Hungry Chef, Pratap brings his experience as a chef in some of London's favourite restaurants and combines it with his own style of cooking that combines the best of British & European cuisine with global influences. The dinners take place at a secret location in Islington, North London (the address is revealed only upon booking confirmation) and feature either 3-6 course meals or a traditional Indian 'thali' where Pratap draws inspiration from the royal houses of India. There's plenty of conversation, laughter and the odd surprise to make you feel completely at home and the food is just as you would expect from someone with Pratap's credentials.