A Maharajah Christmas 2015
Kings and Queens, Maharajah's and Maharani's…
"Whatever creatures dwell on this earth,
by food, in truth, they live.
And into food they shall pass,
For truly, food is the chief of beings"
– Taittiriya Upanishad, 8th Century BC
No truer words could be said than those above for food, truly is the chief of all beings. Every year we host our Christmas dinners, but our are anything but traditional as you might have guessed from the 'Maharajah'. Maharajah is the Hindi word for king and harks to a time before the British Raj where India was divided into several principalities and kingdoms, each with their own riches, cuisines and histories. Most importantly however, was the food that these palaces and forts were famous for, as cooking for royalty is no easy task and often required a small army of cooks (especially when stately functions were held).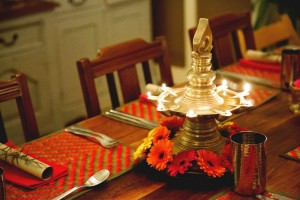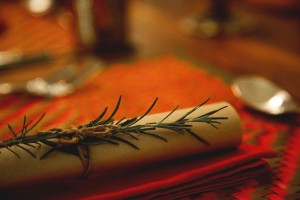 Recipes, however, were not that easy to get a hold of, with stern looks and often, threats of death resulting from a request for a recipe. How have I got my recipes? Well, they came as a gift from the private collection of the house of Holkar – a magnificent principality and palace in Central India and now a Relais Chateaux luxury hotel called Ahilya Fort. The style of the dinner revolves around the traditional Indian 'thali' (a platter on which your entire meal is served), but upgraded to a 5 course meal with the thali as the primary focus.
Right, enough talking, here's the menu along with some stories about the dishes themselves.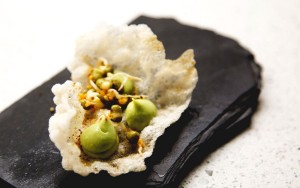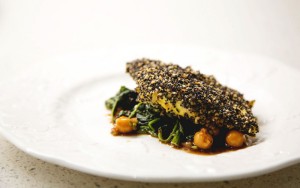 Crackers and Stories
Tapioca cracker, masala avocado, sprouted mung bean chaat
(Can't have Christmas without some crackers  can we?)
Poppy Seed Fish, Solid Spinach (Scindia Palace, Gwalior, Madhya Pradesh)
Sea bass, poppy, sesame & coconut crust, creamed spinach, chick peas and tamarind
Gwalior fort was where the Mughal emperors would send out-of-favour relatives and friends who were never to return. They weren't treated badly, mind you, as Mughal etiquette wouldn't permit such a thing. They had all the luxuries of life, good food, drink, dancing girls and more, but what they didn't know was that they were slowly being poisoned by deadly 'poppy water', a poison perfected in Gwalior fort. Of course, the primary ingredient in the poison was Belladonna or deadly Night Shade, yet it tasted just the same as the fish noted above (our guests are alive and happily going about their lives!)
Gwalior rulers were often scornful of vegetables and they rarely made an appearance on the dinner table. "Talking like vegetables", the king would grunt when displeased. However, in Hinduism there are certain days of fasting and on these days, vegetables are not only permitted on the table, but come into their own with spinach being a particular favourite of Gwalior. Having only eaten this dish of spinach, the Maharajah would declare himself well satisfied and declared that spinach was the most 'solid' and satisfying of all vegetables!

Thali
Venison with imperial almond sauce (Amber Palace, Jaipur, Rajasthan)
In the days of the Maharaja's there were a few things that one could gift the king to impress and curry favour; dancing girls and elephants came high on the list followed by jewelled swords and almonds wrapped in gold and silver. So dear were almonds back then they were used as small coinage. As only the royalty could afford to cook with them, this imperial almond sauce was thus born.
Pungent eggplant (Amar Mahal Palace, Kashmir)
"A boy as big as an eggplant, has a tummy as big as a courtyard"   Kashmiri proverb
The Bananas of Benares (Ramgarh Fort, Benares, Uttar Pradesh)
Whether it's food to be eaten during fasting or feasting, the ingredients are quite similar as none of them contain the usual rice, wheat or cereal flour. The holy city of Benares is famous for its vegetarian cuisine as much as the sacred river and ceremonies that it's renowned for. Unusual cereals such as water chestnut, tapioca and millet are used in place of flours and even  fruits are often used to replace things like chick pea flour, especially in this side dish of yoghurt with plantain fritters.
24 hour turnip (Scindia Palace, Gwalior, Madhya Pradesh)
When the soldiers of Gwalior would prepare for assaulting another castle, they would tie a rope to a large lizard and wait for it to scale the defending castle's wall before securing the rope and their way in. Before heading off for the assault, they would put a dish of lamb with turnips to cook on the slow embers of the fire for several hours until they would return from their battle to a hot meal that had been slow cooking for many, many hours!
Ancient rice, (Mysore Palace, Mysore, Karnataka)
The Hindi word for sesame, a staple in Indian cooking, til, is the word from which the word for oil, tel , derives. As the etymology of this pairing goes back several hundred years, one can say that the dish itself is an ancient recipe!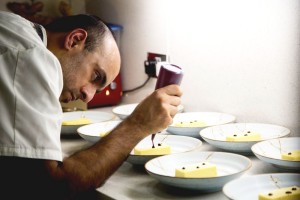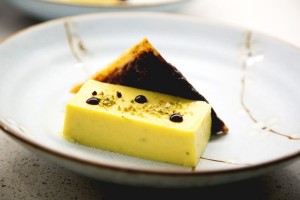 Dessert: A Winter's Tale
Sweetcorn & milk pudding, black carrot toastie
The inspiration for this dish came from Sailana Palace, Rajasthan and I took the liberty of adding my own touches. Both ingredients are winter vegetables in India where on cold mornings the smell of corn roasting on charcoal fills the streets and carrot halwa is made in huge vats outside sweet shops. The corn pudding is scented with kewda or Screwpine – a perfume ingredient sparingly used to scent food and give it an air of luxury whilst the little purple dots are sloe jam that I made with sloes that Nikhat and I picked in Epping Forest in East London.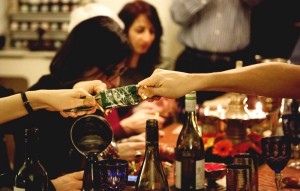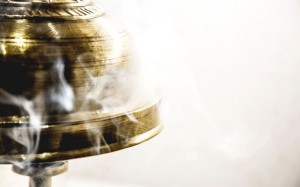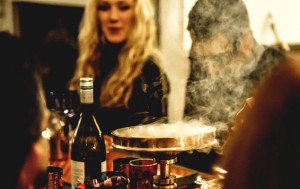 Paan and crackers
Finally, to finish the meal, a 21st century version of paan – digestif served at the end of meals in India and consisting of rose petal marmalade, aniseed, melon & flax seeds, nuts, betel nuts and coconut wrapped up in a betel leaf. This one was wrapped in edible wrappers instead as the betel leaf is quite an acquired taste! As we started with crackers, so must we end with crackers – Christmas crackers this time :-). The smoke in the paan-daan (a traditional brass serving dish) is that of khus or vetiver – another perfume ingredient used in men's perfumes, and also used to scent curtains in the Indian summer as  it has a cooling effect in the hot air.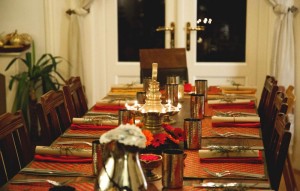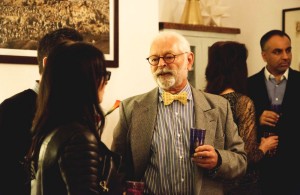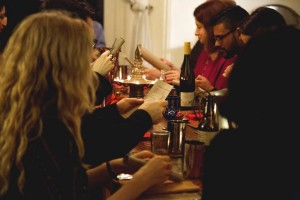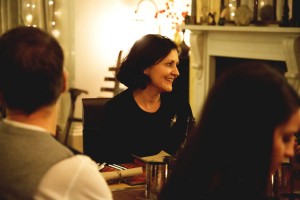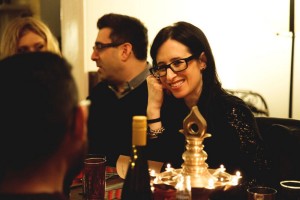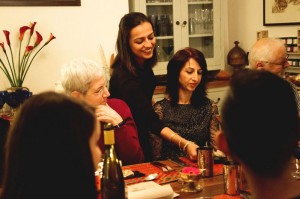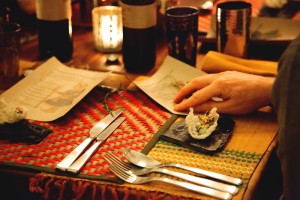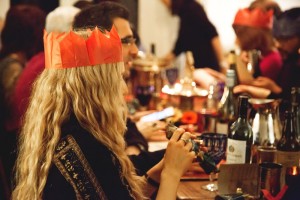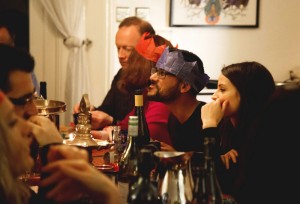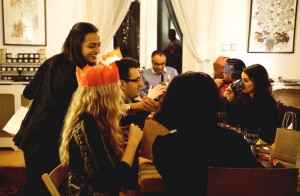 If you'd like to come to our Maharajah Christmas 2016, then sign up to our newsletter at the bottom (or top) of the page and we'll keep you informed of all our events, especially the Maharajah which goes on sale in August. You can also check out our other events on
Photos were taken by the lovely Carrie Tang